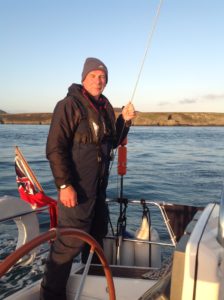 Cris Miles heads up BOOM as the School Principal, and brings a very broad spectrum of experience to the organisation, here's a few snippets from Cris' log;
Qualified as an Engineer Officer in the Merchant Navy with P&O
Competitive dinghy racer for nearly 30 years. Sailed National, European and World Championships in Enterprises, Albacores, Merlin Rockets, RS 400's, Fireballs, Contenders, and sailed with the Olympic squad in 470's. Has held National titles, a European title and finished on the podium in several World Championships
Fell runner – competed in RAB/Karrimor/OMM Mountain Marathons and completed a Bob Graham Round
Paraglider – competed in numerous competitions both in the UK and abroad, and winner of the British Paragliding Cup
Keelboat racer – sailed with the British Team at European and World Championships in J24's, raced Dragons, and most recently under IRC in, Kerr 36, Sigma 33, First 34.7, First 36.7, First 40.7and a First 300. Winner of Class 3 in the Scottish Islands Peaks Race 2015, winner of Class 2 and overall in 2016 AND 2017 and holds the record on corrected time for the Round Anglesey Race
Commercially Endorsed Yacht Master Offshore
Cruising Instructor
Yachtmaster Instructor
Ian Cheek is BOOM's Chief Instructor, dedicated and thorough with great attention to detail. Here's a brief introduction.
A successful career in Telecommunications/IT
Love of the great outdoors led him to move into full time teaching over a number of disciplines
Qualified Mountain Leader, canoeing and climbing instructor
Skippered 'Greater Manchester Challenge' a 76′ gaff ketch
Certified Raymarine, Navico and Garmin engineer
Commercial Yachtmaster Ocean
Yachtmaster Instructor and Powerboat Instructor
Runs his own shore based business offering a wide variety of theory courses including Day Skipper, Yachtmaster, VHF Radio and Radar courses.
All round top bloke, but one of the few things he hasn't got a qualification for.